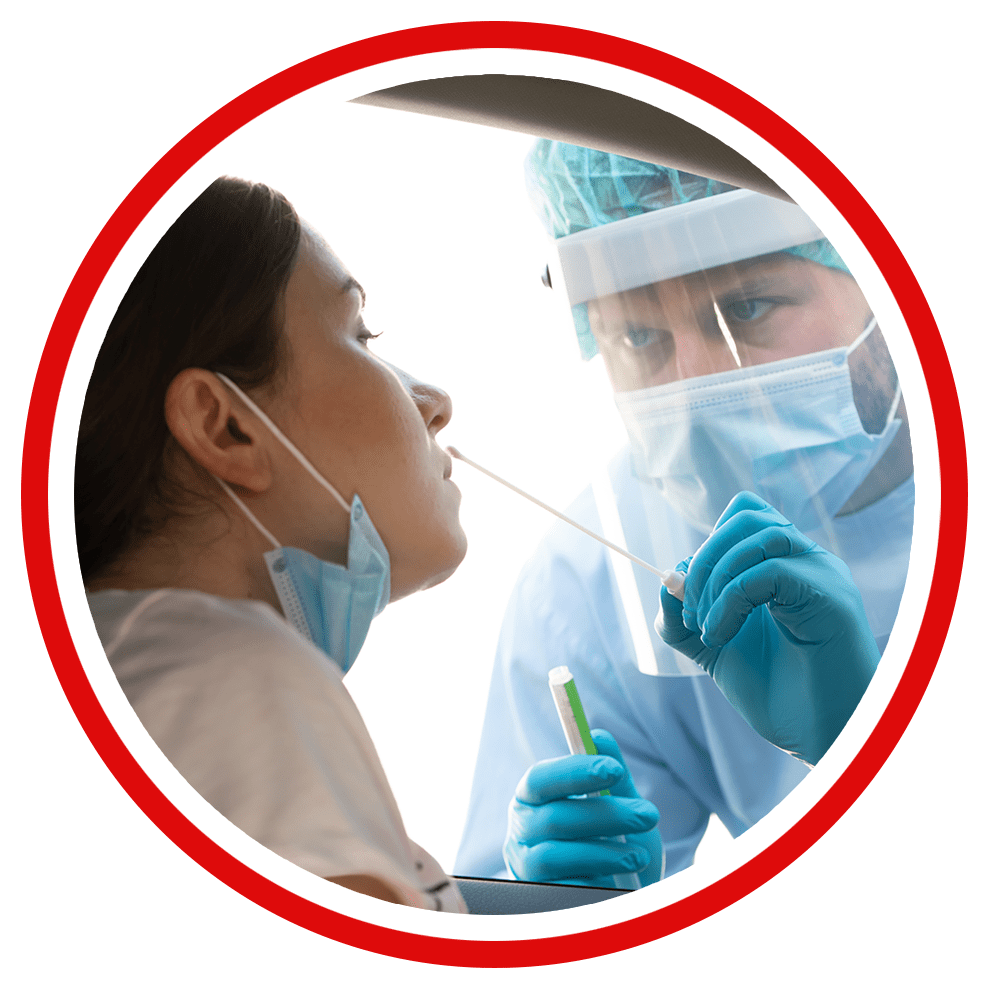 What are the symptoms of COVID-19?
Symptoms of coronavirus can show up anywhere between 2 and 14 days after exposure. According to the CDC, coronavirus symptoms include: fever, cough, shortness of breath. More severe cases of coronavirus (COVID-19) have been linked to pneumonia, breathing difficulties, kidney failure, or even death. On the other hand, some people that are infected may not experience any symptoms at all. Older people and those with pre-existing medical conditions (like heart disease or diabetes) may have a higher risk of developing severe complications from coronavirus (COVID-19).
What do I need to bring with me?
Proof of identity is required. Bring your insurance card if you have insurance.
What type of test is this?
The rapid COVID-19 test performed at our testing sites is the SARS-CoV-2 Ag test. It is a type of test called an antigen test. It is performed using a foam-tipped swab which does not reach as far in the nasal cavity as PCR testing swabs.
What if I don't have insurance?
If you do not have insurance, we will only ask you to bring a form of ID and offer a cash pay price of $56 for the Rapid Antigen test. We do not currently offer PCR to uninsured patients as we are working on gathering a cash pay price for PCR for the uninsured.
Get Tested Today
Find a convenient COVID-19 or antibody testing site near you.
COVID-19 Testing
YesNoCovidTest is offering drive-up SARS-CoV-2 (COVID-19) testing to cover viral detection by COVID-19 RNA testing and antibody tests for Ieg and IgM. Effectively covering the full spectrum of COVID-19 infectious disease progression is crucial in identifying affected individuals at different stages of a possible exposure. Have questions, you can contact us or view our FAQ page for more information.
COVID-19 Testing
Taking our test will confirm if you are currently infected by COVID-19 or if you have gig antibodies.
Accuracy
With a 98% accuracy rate, you can have confidence that you have actually tested negative.
Quick Results
Results certificate with official lab results is provided after 15 minutes for Rapid antigen and antibodies tests. PCR Test result times may vary.
Certified Results
Results are sent through a HIPAA compliant software to a CLIA certified lab with a certificate of negative status.